Strategic Sourcing & Procurement
Traditional aggressive purchasing techniques largely rely on volume consolidation and 'table-thumping' negotiation tactics. Strategic Sourcing is an analytically rigorous approach which is built on a keen understanding of the micro-economics of buyer-supplier relationships and delivers average 20% savings on an indirect expense base.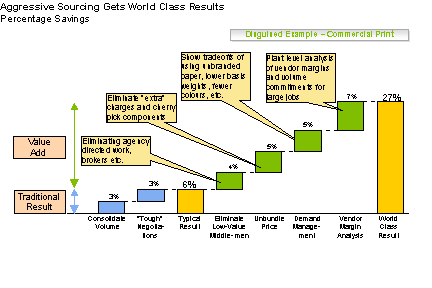 Strategic Sourcing employs a reverse marketing strategy to create an intensively competitive, flat playing field amongst suppliers and exploits a range of analytical savings levers to drive down prices without compromising specifications. These levers focus on, for example, unbundling supplier pricing, eliminating non-value adding middle-men and gaining a clear understanding of the suppliers economics. The valuable insights from analysis are rolled into a comprehensive multi-round negotiation strategy generating real savings from suppliers which are booked and driven out of budgets.
Sixhills has a broad range of experience applicable in Strategic Sourcing, and Outsourcing, and can help you to reduce your expenses.